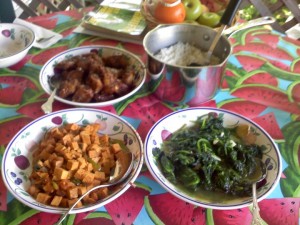 It's nice to be home! And I've been cooking various dishes to show my family that it is easy to cook healthy Asian food, one of the purposes of creating AsianLiving.me!
The first lunch I made included my now infamous Pork Ribs with Garlic and Black Bean Sauce, with spicy Toufu, and Spinach Greens. It was the first time my family had tried these dishes made at home, rather than at a restaurant.
The spicy Toufu was a little new for me. (It's hard to do Toufu right!) So, let me summarize this basic recipe here:
1~ Put your oil of choice in a pan. Less fragrant oil is better; like vegetable or peanut oil. At the same time, prep your toufu by cutting it into small cubes, if it isn't already cut. (Harder Toufu, which can be purchased at a local supermarket in the US, is easier to control and doesn't break apart)
2~ Dump your toufu in and stir continuously with a spoon or spatula (2-3 minutes). Brown your toufu by adding some soy sauce. This is also a good way to salt your food, so you don't need to add any later.
3~ Toss in slices of green pepper and onions. Add scallions for additional color if you want. Stir around.
4~ Add chili powder to taste and a couple pinches of sugar. Keep stirring! *If the toufu is not too brown, feel free to splash some more soy sauce.
The final result is a spicy, savory toufu dish! People who aren't health nuts can appreciate this dish along with those you just want to eat healthier meals. Add a meat of your choice if your guests need a little more convincing!
NEXT ARTICLE: Summer Cooking 2010: The Best Cauliflower Dish in the World? (coming soon)