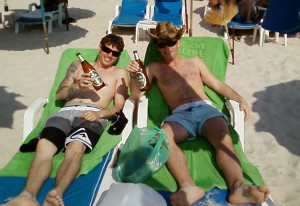 If Phuket was a sound it would be "Ngaaaaa," which starts low and gets high pitched. That is the sound walking down any major street near the beach village. What is making this strange sound you ask? That would be the masseuse/working girls which wear the look of a decade's experience and heavy make-up on their faces.  My cousin and I were curious about the "massage" that was being offered, but decided against it. On a budget, and getting "taxed" as Jake likes to say, the prices of most things in Phuket didn't allow us a chance to make it rain, so-to-speak. So we had more beer instead.
It only took a day for me to realize where the anti-massage culture comes from in America. We equate massage with sex rather than physical therapy or Chinese medical practices. But, why? First of all, the locals thought we were either beach-goers, navy-men, or both. Like much of Asia, the military used to come here for R&R reasons, had their on "Wild On…" experiences, and probably returned to the US to brag to their buddies. And just like how the Internet got started (with porn sharing), a star was born. Unfortunately, the somewhat conservative aspect of American culture threw the baby out with the bath water… meaning the true benefits of massage became equated with cheating on your wife. But don't worry, at least this article will have a happy ending!
Hedonism is not the only thing Phuket, or Thailand in general, has to offer. Some of the most amazingly blue water splashing on white sand can be found here. Beach after beach dots this beautiful coastline. The locals are very chill and take life as it comes, which seems to be the standard for tropical people. Thai food is delicious too! Jake and I had a bowl of noodles with spicy paste, raw vegetables, and dried fish on the morning of departure. And I could picture myself preparing this simple noodle breakfast for myself back in the US, when I go back.
Not only is Thai cuisine delicious, but the beer can be quite potent! Chang is a major local brew which is labeled 6.4% and can be bought in 640mL(22oz.) bottles for about $1.25 each.  So, you could guess that our beverage of choice for 6 days was indeed Chang!
We definitely enjoyed our visit to Thailand, but we were ready to go when the last day arrived. Some travelers stay for weeks or months (or years!), but the beach-bum lifestyle started making us crazy! To see more pics about our trip to Thailand, visit my photo albums on Shutterfly.
Happy Travels!