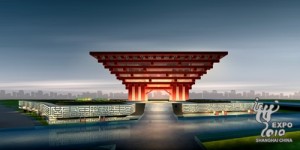 "The China Guan" is my way of calling this amazing 2010 World Expo pavilion that still receives thousands of visitors per day in Shanghai. The building is a tribute to traditional Chinese architecture dating back to the Spring and Autumn Period (770 BC-467 BC). From this artist's rendition you can see the "interlocking wooden brackets" which are the most important element of this kind of traditional structure. Although I hadn't made the effort to visit the Expo in 2010, I felt it was important to see this pavilion before it gets torn down… or perhaps it will be the only building left standing in this expensive downtown location.
The China Guan really impressed me not only because of its unique outer covering, but mostly because of the video exhibit that you are shown in the first hall. After taking an elevator up one of the legs of this massive building you are led into a dome-like video area. The room is packed with people eager to get a dose of modern Chinese culture. The lights dim to black and the show starts.
The following 10 minutes were truly a flashback for me. A lot has happened since I got to China in 2005. Economic progress, natural disasters, and political conflict just to name a few. In a typically dramatic Chinese fashion, the stories of soldiers, athletes, politicians, and farmers were laid out for the crowd to weep over. In fact, I nearly shed a tear at the Wenchuan Earthquake memorial piece. The visuals were so stunning that you felt as if you were there; I could smell the dust from crumbled buildings in the air.
With time-warp scenes of a common household from the 1960s, 1970s, 1980s, 1990s, and 2000s, the audience was taken through the technological advancements of most developed countries. Unfortunately, I could recall many country-side homes in 2011 that I've visited that still look more like the 1970s home than the year 2000 one. Perhaps the have-nots who could afford a visit to the China Guan were thinking, "this 2000s living room looks nothing like mine. What the ….?" I'm sure the disparities in society were not highlighted for obvious reasons; mainly, to keep harmony in society. Ah, harmony in China. What would we do without it?
The show ends with a brief look at the Green Economy that is rapidly developing in this country. Wind power, solar power, and agro-based power exhibits are on display like at a science museum. Concept EV cars were on display, but were a little too Jetsons to see the light of day anywhere. I would say that Better Place's new island in Shanghai has a better shot at success with this EV market.
After seeing the last bits of the future, you're sent down an escalator… back to reality. See some of my other shots in the gallery below.
[seo_thumb_gallery category="China" gallery="Expo" skin="black" size="small"]