"Dim Sum"   ,  "Yum Cha"  ,  "Morning Tea"   or  "Zao Cha"
Drinking Tea has always been an important part in the daily routines of most Chinese people, but Morning Tea specifically has been enjoyed by Cantonese Chinese  for hundreds of years. Nowadays Morning Tea, Yum Cha, or Zao Cha are all ways to describe the activity Westerners might call "Brunch",  and Dim Sum refers to the dishes that are served at this leisurely mealtime. As with much international Chinese culture, this tradition has it's roots in Guangdong province, but is practiced regularly throughout Hong Kong, Macau, Singapore, and Chinatowns worldwide. Let's take a look at what's in store for first-time morning tea patrons!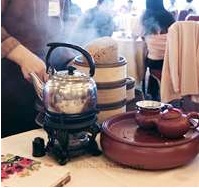 Kung fu Tea
Don't miss the chance to Pao Cha with your hosts while you sip on piping hot kung fu tea in small tea cups. All Morning Tea establishments provide the option of small tea sets with boiling hot water that you can use to make tea at your table. Sometimes the tea alone costs as much as the food, but worth it for first-time visitors. A common favorite among Cantonese is Pu-er tea, which is a darker tea that reminds me of coffee. It's known for aiding disgestion and doubles as a dieting tea.
An alternative to Kung Fu tea is just a simple pot of house brew that varies place to place. The cups are usually bigger too. Continue reading Understanding the World of Chinese Morning Tea