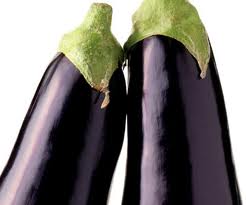 One type of cooking that has always worried me is "steamed" anything! I know white rice is steamed, but how do I actually steam food without another special machine. If you are like me, read about using your rice cooker as a steamer for dishes first, then come back and follow these easy steps.
PREP: Finely mince 2-3 cloves of garlic and put them aside. Keep bottles of sesame oil, vinegar, and soy sauce handy. Salt too. (See image below) Also, use a steamer or your rice cooker.
1~ Slice up the eggplant in half, then into 1/2″ thick strips-lengthwise. This can be altered as you do the recipe more often and develop a preference.
2~ With your cooker/steamer warmed up, place the raw, sliced eggplant strips into the steaming tray. Let them steam for 5-10 minutes.
3~ Pull tray out of steamer carefully… let the tray sit on a cooling rack or kitchen counter. Sprinkle salt over them. After a minute, start pulling the eggplant into strings with chop sticks or a fork. You'll notice that water is pulled out of the eggplant by the salt.
4~ After draining the water out, you'll see the resulting mushy stuff that is in the image below. Let it cool for about 5 minutes before adding about a tablespoon of vinegar, a teaspoon of sesame oil, a splash of soy sauce, and the minced garlic. Mix completely.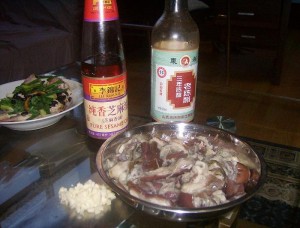 * This dish is best served cool. You should be able to taste the fragrant sesame with a twang of vinegar.