March 8, 2007 – 9:30am Meeting with Zhou Laoshi. (HR department- 13 years experience)
Meeting with Zhou Laoshi was a pleasant experience this morning. I found out, ironically, that she was probably in her late 40s and rather traditional, but ready to accept me and bring me in for a few test classes ASAP! One of the most important experiences of all, though, were the moments when her boss would speak Chinese with her. This was the "invisible wall" factor that most chinese count on and 99% can trust is there.
You know, it's the "we speak our language with the foreigners present and assume they can't understand it" wall. For example, they had already agreed on times for me to come in next week and then the HR Manager asked about "future cooperation," "what does he want to do with us in the near future?" "Will these classes really be free?" etc. I knew about these discussions and waited for the translated version from Zhou Laoshi. (She was very diplomatic by the way. She didn't want to discuss the future yet, so she just simply left it out of the conversation. I respected that invisible wall and didn't bring it up.)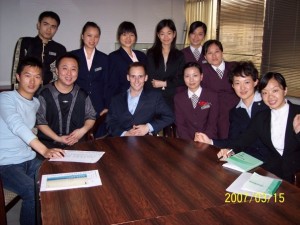 This was perhaps the most victorious feeling i've had since my stay here in China. I'm now able to (listen through that wall and) consider all of these outside ideas, projections, and queries without responding to them instead of the translator. I feel like changing my name to a number… maybe 008!
We discussed the following points, which I will remember easier in a list:
1) Major problems for teaching English with the current hotel scheduling system:
a. Entire staff on different levels. Some think the lessons are too simple, while others find them too hard. Can't be consistent with everyone!
b. A group works together one week, at the same time. The next week there is a time change for half of them. This creates different mixes of staff in the classes, creating inconsistant groupings in class.
2) Because of the above, there is always a dropping number of students no matter what is done to counter that; It goes from MANY to A lot… to some……. to few …………to very few.
3) 600 employees, but many don't need English. IN FACT, only 15% of the guests are Westerners. This creates less demand for English study. *MORE Korean and Japanese* Although i did argue the fact that many Asian people can't speak Chinese either.
4) March and April are the slowest times of the year. The times when hotels do annual English Lessons to reteach the basics to everyone.
a. May- (1-7) is Golden week, a big time for chinese travellers.
b. Summer months are usually busy because of Zhuhai's resort status.
c. Sept./Oct.- Moon cake time (Famous in ZH) they sell "1,000 million" I guess…
d. Oct. (1) is national day, busy time.
e. Nov./Dec.- Most people get married during these months to get ready for the New Year.
——————–
So, it was a productive morning. I had coffee after the initial meeting and I got a tour. I met everyone from high-level managers to trainees. All had rather mediocre English, but i stayed positive through it all. Sometimes i showed my chinese ability, but not in front of Zhou Laoshi or her boss. I will keep that a secret the staff doesn't leak it first!
I further learned that the foreigners in this area are mostly Korean and Japanese. This is an idea that I would like to apply to my website- a kind of teacher search portal, but more on that in the next post.
-Ben杰明