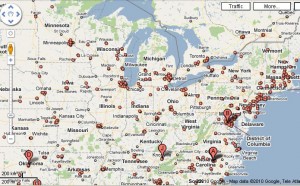 Most cities with at least 50,000 people in America are bound to have some kind of Asian market. It might be Chinese, Japanese, Korean, Thai, Vietnamese, or any other Asian nationality. That shouldn't be a problem because all Asian food is awesome!
The map to the right will help you find your closest Asian food market. Just keep clicking in the area of your city or town to eventually find it! If you are good with Google, you could substitute "usa" with "[your town]" to search faster.
I will make a printable list of ingredients that are common in the recipes found on AsianLiving.me so that you can take it with you to the market. If you are interested, please sign up for Healthy Living Tips and you'll be notified as soon as it is ready! Enjoy!