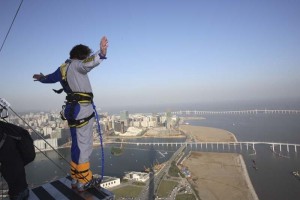 Yesterday I finished my work early to visit Macau with a colleague turning 36. Taking me by surprise was that he felt it was time to try nose diving off the tallest bungy platform in the world. Dropping over 750 feet (233m) in just a few seconds costs thrill-seakersHK$2,500 or about $320 each time. Although it looked like an experience of a lifetime, I decided to just cheer him on from the observatory desk. Actually, my thrill for the day was at the Galaxy Resort and Casino which is just a bridge hop over to Taipa from Macau.
Our taxi floated us over from the Macau tower towards a white and gold crowned castle, nestled in the eastern coast of Taipa island. After we paid our driver, we stepped into a massive entryway with flowing waterfalls and beautiful greeters. All i could think was, "this is where I was meant to be today!"
Since the birthday boy is a movie buff we pre-brought World War Z tickets at the Galaxy Cinema box office. Since we had an hour to burn I decided to hit the Sic Bo tables with HK$1000. This game can be as simple and as complex as you want to play it. Its played with 3 dice and a table full of combinations with their odds. Big and Small were the least risky bets, just doubling your money, while total combos 3,4,5,…16, 17, 18 paid out up to 50 times your bet. Triple roles , like 5 5 5, paid out 150 times! These tables were mostly full of Chinese the whole time we were there.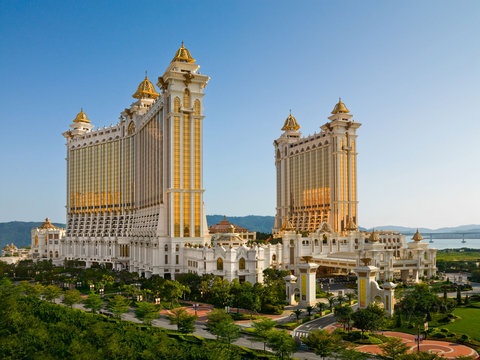 My colleague didn't understand my interest in playing Sic Bo and other games like WeLuvBingo.com. He pondered, "You're willing to just give your money away? Just an hour ago you didn't want to spend $2500 on a bungy jump, but now you are hitting the ATM for this." And that's when I retorted that my $1000 won't disappear in 5 seconds because I'm careful with my betting and know when to take my winnings or cut my loses. Also, there's a chance I break even or walk away with more… His $2500 is never coming back. It's gone, forever.
I finished with $1600 before calling it quits and we mused about casinos for awhile longer before watching the movie. What we did agree on, though, was how much Chinese believe in Luck and the fact that the mainlanders are the lifeblood of Macau. To them, luck is as real as air or water and it follows some people around more than others.
It's like Heaven and Hell. Religious folks would say they exist and we are all going to one or the other when our time is up. That is not just an occasional truth- it's always true. The same goes for luck in China. When they play Majhong, which is as popular as bingo for retired folks in the US, they are continuously hoping for more of that invisible object to be by their side.
They pray for it at temples every new year. They gift money in numerical increments like 888 or 666 which are very lucky. Children are born and couples are wed on auspicious days like 11.11.2011 because 6 ones would yield good fortune and a long happy marriage.
These cultural foundations drive Chinese to tea shops and casinos quite naturally. As China's economy grows we will definitely see more casino growth in Macau and that is an economic certainty: no luck necessary.