It's July and I've been living in Boston since I moved back from China at the end of 2013. A LOT has happened over the course of half a year [back home] and I thought it was time to check in with AL.ME to recap what's happened and cite the many hidden challenges of this repat experience. Here's the 1st installment about Renting and Moving as a repat!
~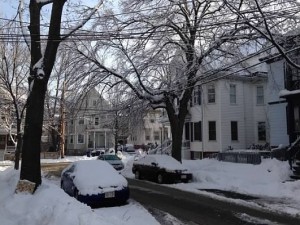 When you live in another country for so many years (8 in China, 1 in Korea in my case) you eventually accept and internalize how the local culture does things. In the case of finding an apartment for rent, signing a contract, and moving in, there were some surprise differences for me here in Boston. For starters, the value proposition of rent in a city like Boston is a horrible deal.
As Winter 2013/2014 ticked by, the experience of subletting from a "slumlord" (in the local lexis) was more of an exercise in price-gouging than fair accommodation. At $950 a month from each of the 5 roommates, this rickety old house with warped floor boards, drafty windows, unreliable water pressure, and noisy street traffic was a tough pill to swallow when compared to my previous living situation in Zhuhai. Back in China I was in a modern, newly furnished, single apartment with reliable utilities and an ocean view off the balcony for $300 a month. I know… location, location, location. *barf*
Locating an apartment and securing a lease is also quite different than I was used to. In China, I was expected to wait until 1-2 weeks before my move-in date to actually look for the new apartment, otherwise it wouldn't "be available" on the date I was looking to move. It was all very last minute, but you could always find a place in the end. In Boston, I've experienced weeks of searching and interviewing just to sign a lease that would begin nearly 3 months later. All very much in advance and reliable, however, requiring $3000 up front upon signing the lease. Putting that money in the hands of the landlord (a stranger) so early threw up a red flag for this repat, quite naturally, but I later realized that this is how apartment-hunting is done here. I needed to accept this or go back to wherever it was "I came from." 🙂
Here's the paradox – when we say business or deals "take forever" in Asian countries, that's not always the case. This is one example that is the exact opposite and actually quite challenging for a recent repat to accept. In this series of articles about being a Repat, you'll see this pattern reoccur, again and again.
Are you a Repat? Please share your comments below. Or subscribe for more about repatriating from China in articles like Job Hunting as a Repat and Food & Dining.