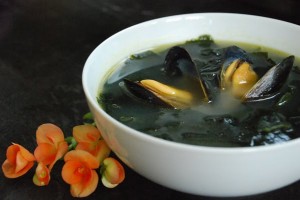 *This post is dedicated to AL.ME's #1 fan – Thank you Saba! 
A few years back I visited a little island off of the coast of Zhuhai (China) and found an elderly couple collecting seaweed. They were bending over and reaching around rocks that were covered in barnacles and salty sea grass. When I asked why they were collecting this brownish, bumpy seaweed and putting it into big plastic bags they said, "We're going to make soup with it." And I just thought… Chinese people have horrible taste buds… Slimy seaweed in homemade soup must taste awful!
But then a couple months ago I was on the phone with my mom who was walking along a beach near her winter home in Florida. She was looking for sharks teeth, as she does most mornings, when she bumped into a fellow snow bird gathering seaweed into a shopping bag. When she asked what he was doing he said that he was a doctor and that the seaweed has great medicinal properties. By the end of their chat, she had realized she was talking with a doctor who gives speeches around the country on cancer prevention. And this man in particular was sending all of the seaweed he collected to his brother's clinic in Portsmouth, New Hampshire.