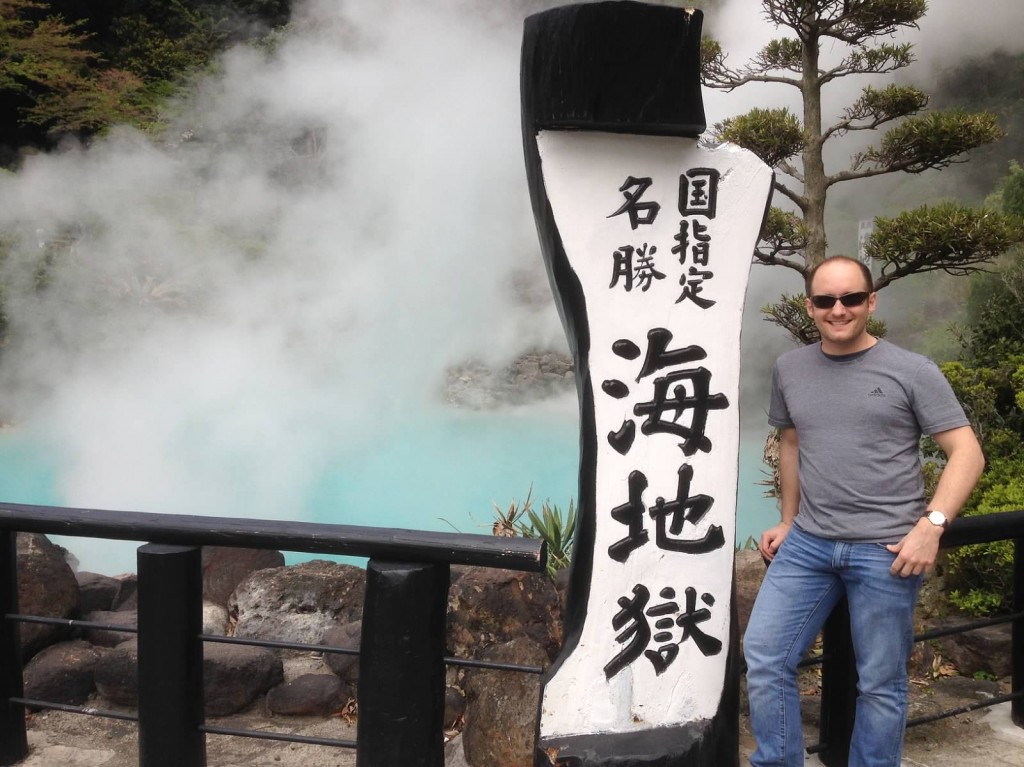 The Omatas welcomed us into their home as guests and showed us the most amazing hospitality. Having known Jun and Rika for years in China, and also tutored their kids, I had always promised I would visit their neck of the woods in South-Western Japan. Since this was an opportunity to do that I made sure that our itinerary included a visit to Oita and Beppu, the hot springs capital of Japan.
Across Beppu you'll find white plumes of steam rising from cracks in the Earth. On our only full day together, Jun and Rika brought us to various jigoku or "hells" in Japanese. These hells were far too hot to swim in but we're beautiful occurrences in nature. The sea hell was blue and the bloody hell was red. Other hells were different colors, including a white one.
After visiting the hells and having lunch, we went to a hot spring with the whole family. These hot springs, or onsen in Japanese, are heated naturally and provide endless amounts of hot bath water. Similar to the island hot spring, our muscles thanked us for this much needed relaxation.
The Omata's generosity knew few limits because after onsen we were treated to a very authentic sushi dinner with the family. Not only did we pig out on sushi but we ate a variety of other sushi-like dishes: Pork slices on rice, egg omelet rolls, fish eggs in seaweed, and even straight up sashimi.
Our stay at the omata's will never be forgotten, especially the kind reception shown to us by Rika's parents who lived next door. They welcomed us with open arms, praised my teaching of their grandkids while in China and sent us off with parting gifts. The only thing that might have topped their kindness would be Rikas breakfasts! Both mornings at their home we were surprised by omelets, toast, fruit, sausages, juice, and coffee! After a week of backpacker breakfasts this was a much needed (and appreciated) change.
We thank the Omata's for being awesome hosts and welcome them to Boston and New Mexico when they visit the US!