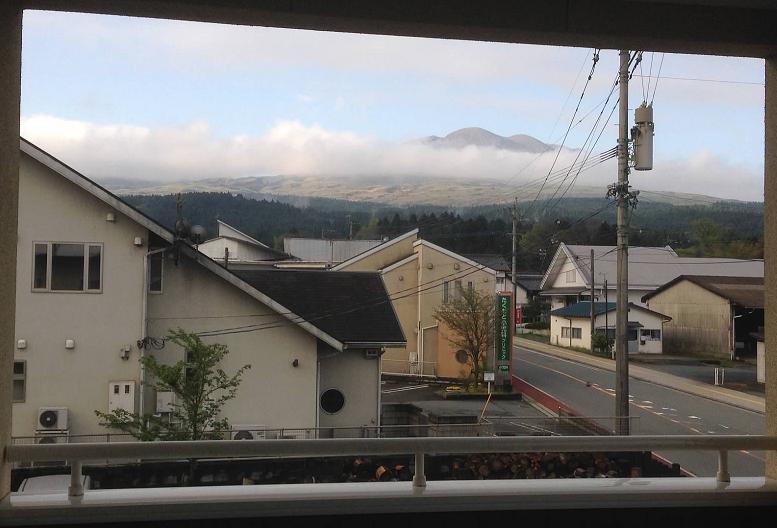 After a nice relaxing visit at the Omata's we had one last big stop on our list – hike an active volcano. Mt. Aso, or Aso San, is known for being a temperamental hot spot that has been smoking for years. At its peak, Nakadake crater, there are about 8 inner craters and a small lake of boiling hot, blue water. The crater is off limits but there are zones outside the most toxic spot with a cable car taking visitors to its edge. Unluckily for us, Nakadake was misbehaving as recently as March, causing the closest safe zone (1 KM around the crater) to be closed off. That, combined with super foggy conditions, made our visit to Aso a somewhat disappointing one.
But before leaving the town of Aso however, we got a chance to ride a classical scenic train that wraps around the southern valley of the mountain. Between the quaint towns of Tateno and Takamori, this hour-long "tour" gave us a glimpse at the communities that live so close to this active volcano.
After Aso, Jake and I were starting to feel a little beat, so we booked a room at a much more comfortable hotel than we had been staying in over the last 2 weeks. We took one last Shinkansen train from Kumamoto to Fukuoka the day before leaving Japan. And if we knew how awesome Fukuoka would be we probably would have scheduled more time there!
Fukuoka is the fifth largest city in Japan population-wise, with a unique blend of Japanese and foreign cultures. The city is known for its warmer weather, fantastic ramen, and beautiful women. But what I noticed most about this city was the Korean and broader European influences on their local cuisine. There was more variety and spice in the dishes than anywhere else in Japan. (It did surprise me how much I started to miss Korean and Chinese food…)
While winding down the trip in Fukuoka, Jake and I made sure to get one last important food tasted: Japanese beef. Although Kobe beef is the most famous internationally, Japan has many regions that produce amazing cuts of meat. After getting wicked over-charged at one executive restaurant (they charged $15-40 per 100g and we had to cook it!) we finally found a smaller local establishment run by a hip chef near the clubbing district. We ordered 4 plates of Japanese beef and he cooked them up so perfectly, I don't think I'll ever taste beef like that again. ($12 per 100g, cooked, totally worth it.) Along with the beef we ordered a local sake the traditional way – poured in a shot glass in a wooden box, filled to the brim.
And that was how we ended our trip in Japan – food, drinks, and sleep! We had an amazing trip and will definitely have another adventure somewhere else together soon. And as with all of my experiences in Asia I'll never live life quite the same as before.