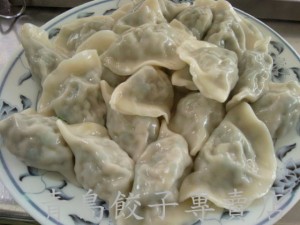 "Dumpling" can mean many things and today I'm going to clear up this issue once 'n for all! (Hopefully) In East Asian countries, especially China, there are many varieties of the dumpling concept; kind of like Wine. When we ask about wine others naturally ask "white or red"?  Dry or sweet? What country? Which vintage? For wine aficionados, like my brother Nick 🙂 , such questions are rudimentary.  Same goes for dumplings.
In the world of dumplings, there is simply one requirement; you must wrap some contents (vegetables or meat only) with a flour-based wrap. They generally look the same, like most red wines might. The varieties of dumplings can be based on a few things, including: country of origin, cooking style, and contents.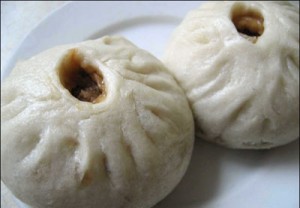 Dumplings are universal and have many names. The rest of this post is dedicated to showing all of the dumpling varieties I've ever encountered in Korea, Japan, and China; including ones that people back home have asked me about (like the mysterious Crab Rangoon!)
饺子 "jiao zi" (Standard Chinese Dumplings) boiled, semi-transparent when cooked. All over china, favored in North. Sometimes enjoyed as the staple in special family meals.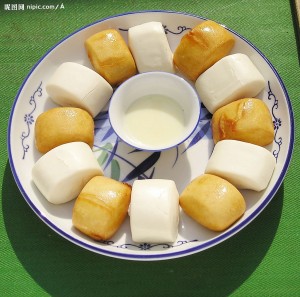 包子 "bao zi" (Meat or Vege Buns) steamed. All over China and 7-11s across Northeast Asia. They are usually bigger than standard dumplings and have a more bread-like texture.
馒头 "man tou" (Plan Buns) steamed. Northern Chinese style, but enjoyed around the country. Man tou is used as a staple by families in the North. It is amazing with spicy lamb dishes and can be eaten as a dessert with sweet dipping sauce.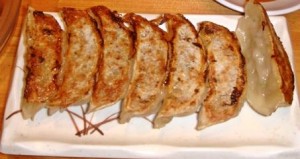 锅贴 "guo tie" (Pot Stickers) pan-fried. Common in Japan, Taiwan, Hong Kong, Eastern China. The picture on the left is the typical style of Pot Stickers. They should be browned on the bottom-side and could contain any combination of meat or vege.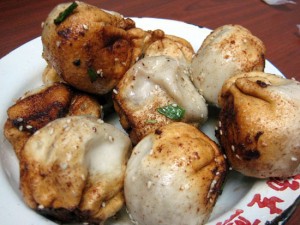 生煎包 "sheng jian bao" (A Meatball+Broth Bun) pan-fried in a wide pan, golden-crispy bottom. Southern Yangtze style. Commonly referred to as "Shanghai-style" dumplings. These are sooo amazing and are rarely found outside Asia, as far as I can tell. They are delicious, but dangerous. Be careful not to take a big bite at first because the scolding-hot broth inside will sting! Use a spoon and nibble the edge until you can safely suck out the soup. A meatball awaits you at the center!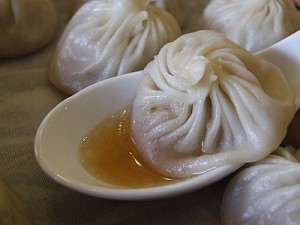 小笼包 "xiao long bao"(A Meatball + Broth Dumpling) steamed. Southern Yangtze style as well. Often seen around China as "Hangzhou Xiao Long Bao", but we all know the best kind is found in Wuxi, Jiangsu province! It is big, sweet, and worth the flight for a taste! It is one of the reasons I might regret moving away from Wuxi!  T.T
点心 "dian xin" (Dim Sum) Actually, Dim Sum is not a dumpling, although you could order Cantonese-style dumplings this way. Dim Sum is the food part of "Morning Tea" or Brunch, a tradition taken on by the Cantonese by way of the British colonization of Hong Kong. At morning tea you order many kinds of dishes which are usually steamed in bamboo containers with ANYTHING (Ribs, Veges, Gourds, Shrimp, Meatballs…)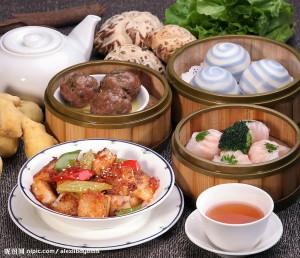 Crab Rangoon, named after the old capital of Myanmar (Burma), was created in San Francisco in the 1950s. According to a dumpling expert who posted an article titled "Does Crab Rangoon Deserve to be an Asian Dumpling Classic?", she expresses a similar confusion that I have with this dish. It is technically a dumpling in that it is wrapped, but the cheese is something completely un-Asian. With so many dumplings to choose from, including ones I'm sure I've missed, a deep-fried cheesy wonton seems a bit more like punishment for the stomach than pleasure.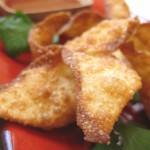 If you have visited Asia, or plan to visit, please try all of these and let us know your your favorites! …and now I'm going down the street to have some fresh Bao zi! (jealous?)