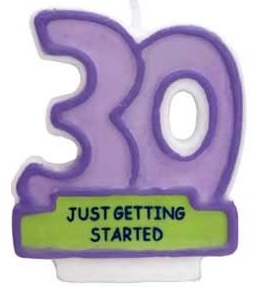 Hi everyone. Today I'm turning 30 and I guess I've been feeling 30 for a while already. Family and friends have called wishing me a great day on this occasion because I guess it is a milestone. (I'm still alive! Woohoo!) Actually, I have got to say that I've really enjoyed spending most of my 20s out in Asia and I would never trade those years for anything. A lifetime of experiences have come from the last 10 years: interesting people, amazing food, unusual arguments, wild adventures, new friends, and near-death experiences… who could ask for more?
Although I've spend most of my career as a teacher, I have certainly learned more than if I had chosen to stay local and get a job after graduation. Certainly I would have made more money and kept in better touch with friends, but I'm sure they have also found themselves busier with their own lives as the years have rolled on… And I don't blame any of them for that – it's life, and we all must live it in our own way. It is important, though, to remember your roots and find a way to give back to the society that raised you. And that's why I know I will come back to New England before I'm 40.
There truly is too much happening in Asia to ignore it, but there is so much going on in America too. Economic downturns aside, the US is still an economic powerhouse which plays a major role in world events.  And with everything that my grandparents and ancestors have done to give me the opportunity to be born in a place like America, it would be shame for me to just live the rest of my life in country that doesn't share many of the same values. And a constant reminder of that is the nation-wide blocking of Facebook, most google services, and even this blog AL.ME. (I need to use a proxy to update this site now). China has certainly come a long way as a developing country and will continue to trudge along with break-neck growth. But it's not my country – It's not my storm  to weather, nor could I resolve the issues of the day as a foreigner. The Chinese need to do that for themselves, just as Americans need to deal with their own internal issues.
But this country will forever be part of global politics and economics. We can't ignore them and that's why I've done as much as I can to get familiar with their ways: because a peaceful rise of China is a global rising tide and it will lift all boats around the world.
So, now I'm off to Karaoke to sing Gangnam Style while eating New York cheesecake made by Germans. After that I'll probably eat a Japanese sushi dinner with my Chinese girlfriend while toasting with Mexican tequila. Then it's off to the Irish bar to watch Australian rugby… It's going to be great day.