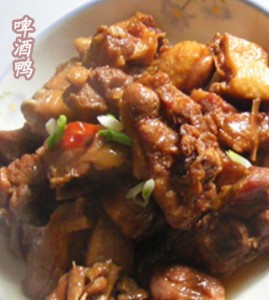 Ah, it's Summer time again! Sun, beach, and beer time has come; and nothing excites me more than beer-infused, Asian recipes! First, I love duck, although it is a bit fatty, and can't wait to start making this tasty dish back home for my family. A friend of mine in Zhuhai suggested it while she was home for a holiday. So, this new recipe of Chinese deliciousness is based loosely on her Guangxi family recipe – so here it goes without further delay!
Stuff to Prep:
a duck, preferably fresh and chopped into bite-sized pieces.
a spoonful of Dou Ban Jiang (chinese bean sauce).
two cubes of Nan Ru (red fermented toufu).
a few spoonfuls of oyster sauce (any brand will do).
600mL bottle of beer (or two cans). Continue reading Asian Secret #28: Spicy Beer Duck!